Coach Carlesi – 2014 PSAL Coach of the Year
Congratulations Coach, from all of us – it is well deserved.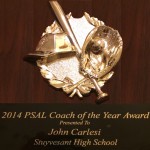 The PSAL Officials proudly present this award to the coach who shows the respect, competitiveness, and professionalism in conducting himself with his team, his school, and the officials he works with. Your conduct on and off the field truly makes you a worthy recipient of our award. We are honored and privileged to have you on the field providing the young men of our future with integrity, respect, and sportmanship for the game of baseball. Your players are truly blessed to have a coach like you to lead them into the future.
I just wanted to thank the players and parents for all the hard work you put in last year. Without you this wouldn't have been possible. I also wanted to thank Coach Hahn, because without him Stuy baseball would not be where it is today. He is truly the soul of our school team. So I just wanted to share this award with him.

Thank you again to all the players I have had the privilege to coach. – John Carlesi