Nathan Chandler '17
[Coach Carlesi via Facebook] I'd like to congratulate Nathan Chandler, class of 2016, on his first college win yesterday for Kenyon College. Nathan battled back from TJ surgery during his senior year at Stuy and worked hard to get back to top form. We are very proud of him.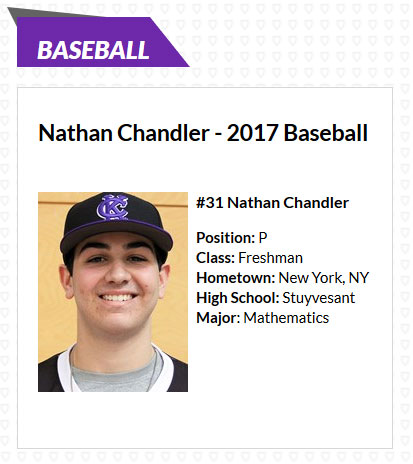 Max Schneider '16
Congrats Max!

From paulickreport.com
Max Schneider Awarded Sports Journalism Scholarship From TRA
Wed. September 7, 2016
Max Schneider will enter the freshman class at Vanderbilt University as the 2016 recipient of the 58th Fred Russell-Grantland Rice TRA Scholarship for sports journalism, it was announced Wednesday by the Thoroughbred Racing Associations (TRA). Schneider, who graduated from Stuyvesant High School in New York, NY, was selected from a record 621 applicants for this year's scholarship in the amount of $25,000 per year for four years at Vanderbilt.
Nick Rozar '09
[via Coach Carlesi]

Hi everyone, Nick Rozar, a Stuyvesant baseball alumni, has started up a new business. Check out his website at Hetmans.com. Congrats on your new venture!!!!